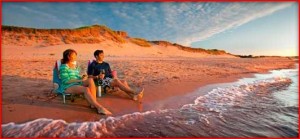 Cavendish Beach Music Festival
On behalf of me, Harm and our entire team at MarcoPolo Campground, we would like to take the opportunity to thank all of our seasonal campers for your patience and understanding last weekend during the Cavendish Beach Music Festival. The weekend did not go without some instances; however with your concern for everything around you, you were our eyes & ears. Because of this we experienced minimal damage to the property. Again a huge thank you for your support and more importantly your patience during this extremely busy weekend.
Win Your Seasonal Site for 2015 & New 50/50 Draws!
Yes, you read this right! Tickets will be sold site to site on Friday nights the end of July & August for 'exixting' seasonal campers only, for your chance to win your site fee for the upcoming year. Tickets will be $10 and there is no limit on how many you purchase.
50/50 tickets will be sold on Friday nights, at the adult Karaoke & other adult events weekly for your chance to get in on the draw. Winner will be drawn for each Sunday and winning number will be posted at the Security Gate; proceeds will go to the Children's Wish Foundation. Prizes not claimed will go into next week's pot.

Join us Sunday evenings, July 13th – August 24th, 2014 from 6-8pm for a meal, video and conversation.
The Galley Restaurant
No registration required
No cost to attend!
Special Events
July 10th ~ 8-11pm ~ Karaoke in the Rec Hall
July 11th ~ 7:30 ~Adult Card Games, Galley Rest (more info on next page)
Aug 9th @ 8:30am ~ Dog Show
Aug 18th – 22nd ~ Red Cross Swimming/ Boating Lessons. Please call 628-6262 or RedCross.ca/PEI for more info
On Site Pampering
Rossy's Exotic Nails ~ Manicure & Pedicure appointments right at your campsite by callig Rossy @ 902-213-2537
Full Body Spray Tans ~ Sandra offers full spray body tans for both male & females and can come to your site if you wish. www.smartspraytan.com call or text @218-0847 and she is also offering a discount to MarcoPolo campers!
Linda's Costume Rentals ~ www.lindascostumerentals.com
Upcoming Theme Weeks
July 6th – 12th ~ Cavendish Week
July 13th – 19th ~ Christmas Week
July 20th – 26th ~ Easter Week
July 27th – Aug 2nd ~ Pirate Week
August 3rd – 9th ~ Farm Week
August 10th – 16th ~ Halloween Week
August 17th – 23rd ~ Disney Week
August 24th – 30th ~ Family Week
2014 Recreation Program
Welcome Campers! This year the morning rec. program will start at 9 am and finish at 1 pm; it is drop in, and you are welcome at any time during this time.
There will be daily crafts that reflect our theme weeks which will be created from recycled products; Games, Activities, Toys, Puzzles, Cars, Checkers, Board Games & More are also available. Everyone is welcome to use the rec hall and come out to our activities.
Please watch the windows in the rec hall, as we will update new events and times of activities weekly.
Family Activities
~ Daily @ 6pm – Hayrides
~ Monday – Saturday @ 7pm – Outdoor Games
~ Monday, Tuesday, Thursday & Friday's @ 8pm – Ball Hockey
~ Friday @ 9pm – Family Dodgeball
~ Sunday's @ 6 & 8pm – Movies in the Rec Hall
~ Monday's @ 9pm – Family Volleyball
~ Wednesday's @ 7:30pm – Chocolate Bar Bingo
~ Thursday's @ 9pm – Exploring
~ Friday, Saturday & Sunday's @ 6pm – Mascots in the park
Adult Activities
~ Thursday's @ 8:30pm (till midnight) –Karaoke in Galley
~ NEW!! Friday's @ 8pm – Weekly Card Games (Texas Hold Em, , Crib, Auction, 45's – register by 7:30pm in Galley Restaurant please
Summer Office Hours
Daily ~ 8am – 10pm
Ships Store Dairy Bar & Take Out
Daily ~ 8am – 10pm Daily ~ 11am – 10pm
Captain Kidd's Dairy Bar Breakfast Buffets
Daily ~ 11am – 10pm Sunday's till Sept 7th ~ 8am – 12 noon
NOTICE
Please be advised to you are not allowed to rent your personal trailers at the campground unless you are licensed/ inspected by the Quality Tourism Board.
We have four companies on site who provide regulated rentals.
Ellis Trailer Rentals
902-432-2040
info@ellistrailerrentals.com (formerly Cindy's Rentals)
S'More Fun Trailer Rentals
902-367-9063
smorefunpei@hotmail.com (formerly Wenda-Lin Rentals)
Wyand Trailer Rentals
902-963-2315
djwyand@hotmail.com
Faye's Family Trailer Rentals
902-672-2080
fayeford@auracom.com
For Upcoming Newsletter items, please email them to newsletter@marcopololand.com
How To Reach Us
Security: 963-2352 x 4 Ships Store: 963-2352 x 3
Office: 963-2352 Dairy Bar: 963-2352 x 1
Toll-Free 1-800-665-2352
Campground Email Address: questions@marcopololand.com
Marco Polo Treasure Chest Email: marcopolopei@gmail.com