WE OPEN FOR THE SEASON MAY 2018!
As you walk through the doors of The Table Culinary Studio, your senses are immediately engaged. The essence of community fills this former New London United Church, alive with a history of events that brought people together within its walls. What better place to congregate and share in a unique culinary experience than a space that was created for the gathering of family and friends?
THE VENUE
The former New London United Church that now houses The Table Culinary Studio was built in 1953 through the generous donations of its members and supporters. In recognition of that community commitment, every effort has been made to preserve the building's distinctive architectural features and to honor its origins, creating a true wow factor.
Exposed trusses and streams of natural light radiating through stained glass windows establish a leisurely atmosphere of relaxation. The original pulpit built by Marshall Constable has been incorporated into the new upper level of the building, providing a focal point for speakers addressing guests at private functions. A custom-built spiral staircase leads up to the church tower and a pastoral landscape view that must be seen to be fully appreciated – a panorama for photographers and other artists.
YOUR EXPERIENCE
Prince Edward Island is known for its gentle, friendly atmosphere. It is also a place where family traditions remain alive and well. Our Island is a place where friends and family continue to gather around the kitchen table regardless of the reason, regardless of the season. That sense of gathering and belonging is what we strive to achieve when you visit us.
At The Table Culinary Studio, we'll introduce you to traditional PEI recipes and the latest culinary innovations, always with a sense of humor. We'll explain the effect and impact of each ingredient and answer any questions you may have. We'll guide you step-by-step through cooking techniques as you produce your own meal of authentic food… made almost entirely of ingredients produced and harvested right here on our beautiful Island.
Once the meal is prepared, gather around our 12-foot long harvest table built by local artisan Todd Woodside using 140-year-old attic boards salvaged from a nearby home. We'll share stories and captivate your imagination with accounts of Island fact and fiction over fine food.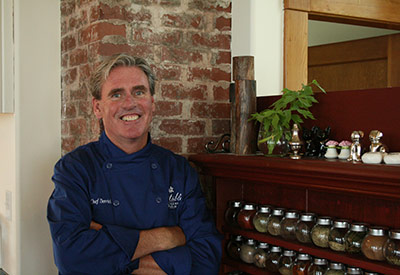 CHEF DERRICK
Owner/Chef
As far back as I can remember I have always chosen a unique path. My search for the eclectic has led me in a number of wonderful directions and to some very satisfying places. I have spent the majority of my adult life in the service of seniors, have played professional sports, flown planes, been a realtor and trained as a Chef.
I was born and raised in small-town Ontario and grew up loving the outdoors. There is something special about being outside and at one with nature. The earth speaks to us through the fields, mountains, seas, and rivers. All my life I have heard and seen the beauty of nature, and I really think that is why I have settled here on Prince Edward Island. As Jacques Cartier said in 1720, the Island is "the most beautiful stretch of land imaginable".
PEI is also known as the birthplace of Canada, and I love that the idea of creating a nation was born on this small Island. Even though I am "from away", I have made my home here. I have had the opportunity to put my hands to making lobster traps, earned my Cork designation on a 45' Hutt fishing boat, helped catch 4,000 lobsters, and been part of a crew that caught both a 400 lb. and an 800 lb. tuna.
My most cherished pastime is creating culinary events for friends and family using fresh Island ingredients from the sea and red soil. I enjoy gathering people from different places at one table to share an Island experience built on incredible food, colorful stories and lots of laughs. My goal for The Table is to give you an Island culinary experience that will inspire you to recreate it and share it with your friends and family.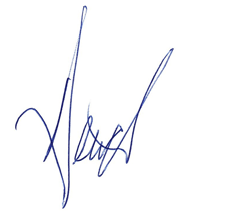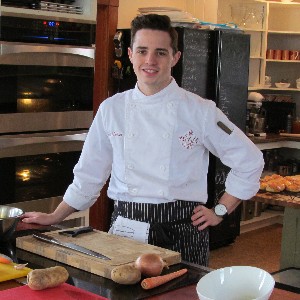 EXECUTIVE CHEF MICHAEL
Food was always destined to be a part of my life. After eight years of working in the food industry, I began my journey to become a Chef at the Culinary Institute of Canada. It only took one step into their kitchens to realize I had made one of the best decisions of my life. I enjoyed every minute of my training and spent the summer of 2016 at The Table as an apprentice. That summer changed the very essence of who I was not only as a Chef but as a person too.
Food is my life. You don't have to know me very long to realize that. Food is a unique art form. As a Chef you're given a small canvas to work with, putting hours of work into each square inch, only to have it be consumed in mere minutes. It's one of the few art mediums that engages with its audience on so many levels; sight, smell and of course taste. As a Chef seeing the expression on a guest's face as they take that first bite is possibly my biggest guilty pleasure. It's safe to say that food is my creative outlet of choice and will be for a long time. I'd like to thank everyone who came to visit us last year, it was an amazing year for all of us as we took on our busiest year yet.
We are proud to have won the Taste our Island Award for 2017 and are honored to have been chosen from among the amazing selection of Island Chefs in the competition. My goal this year is to build upon the legacy we've begun to create and design an experience that leaves every sense yearning for more. I look forward to welcoming you to The Table this season!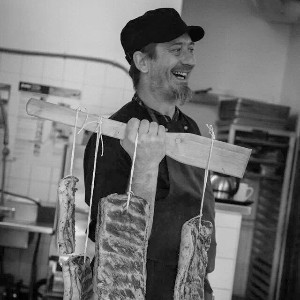 CHEF UWE
I was born in Einbeck, a small town in the middle of Germany known for its long history of beer brewing and for inventing the famous Bock beer. I discovered my love for cooking early on when I started preparing the lunches for my family at the age of 6. My Mom remembers that I wanted to become a Chef ever since.
As a European trained certified Chef with an emphasize on traditional and modern French and German cuisine, I have 30 years of experience working in restaurants in Germany, Spain, Venezuela, the United States and Canada.
I always try to broaden my horizon and gain new knowledge and experiences, which led me anywhere from running fine dining restaurants and bistros to Executive Chef of a German catering company.
After moving to Canada, I spend 6 years in Saskatoon as a Head Chef of Calories Restaurant & Bakery and Souleio.  I have a passion for fresh and local, sustainably produced food, and while there worked directly with local farmers who supplied a range of fresh, seasonal produce and whole animals, giving me the opportunity to refine my skills in butchering and charcuterie, making preserves, pickles, and jams. On a trip, I fell in love with the East Coast, I moved to PEI and started at the bistro Terre Rouge, spent a summer at the Flying Apron Inn and Cookery in Summerville, Nova Scotia and spent a season as the Head Chef at The Pearl Eatery in North Rustico.
My passion is to maintain traditional cooking techniques to create unique modern dishes and to pass these techniques on to the next generation of Chefs.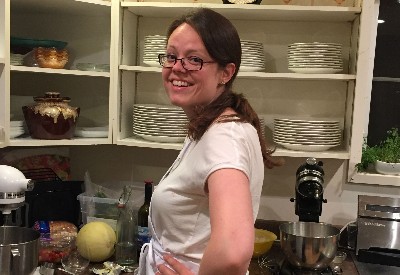 CHRISTINE
Event Planner
Prince Edward Island is my happy place.  For me is it is a place of community, hard-working people, breathtaking natural beauty and as Anne so aptly put it, plenty of "scope for the imagination".  Along with Chefs Derrick and Michael, I take great joy in working in partnership with local farmers and fishers and sharing the restored church, our food, and Island stories with everyone who visits The Table.
Originally from Toronto, I have Maritime roots, with family still living in Nova Scotia where I spent many fun-filled summers.  With an education in archaeology and work experience in corporate office administration, I have been a part of The Table since it's inception.  I organize, implement and help run classes, dinners, events, and weddings. It is my heartfelt goal to make each moment of your time with us into a wonderful memory.
I can't resist getting in the kitchen with the Chefs though to learn, laugh and create.  I now teach our Artisan Bread class and make the occasional dessert for our guests.  I hope you will join us at The Table and let us share with you our love of the Island, it's incredible food and the amazing farmers and fishers who make it all possible.
---
CLASSES

"YOU WON'T BELIEVE WHAT I DID AT THE TABLE!"
 The Table offers one-of-a-kind hands-on culinary experiences featuring Prince Edward Island foods and culture.  Our small classes of 6 to 10 people allow you to learn about different Island foods and to see first-hand how they are grown and harvested.  Whether we have live demonstrations in the Studio or take a trip to a farm, you will have an unforgettable and fun experience, getting your hands a little dirty, talking to locals and trying something new along the way.
 In each class, you will join our Chefs in the kitchen to create both understated and sophisticated culinary dishes using fresh local ingredients.  Classes offer something for everyone, from the novice to the expert cook, providing instruction on cooking techniques as well as the products being used.  You get to choose how involved you want to be, you can get right into things or stand back and learn.
At the end of the class, you will enjoy the dishes you have prepared with some freshly made bread and a glass of wine or beverage of your choice.  You will take home the recipes you made and pictures from the class to impress your family and friends with your new culinary skills and tales of your experiences on the Island.
 Check out the list of classes below to find the one for you!
Applelicious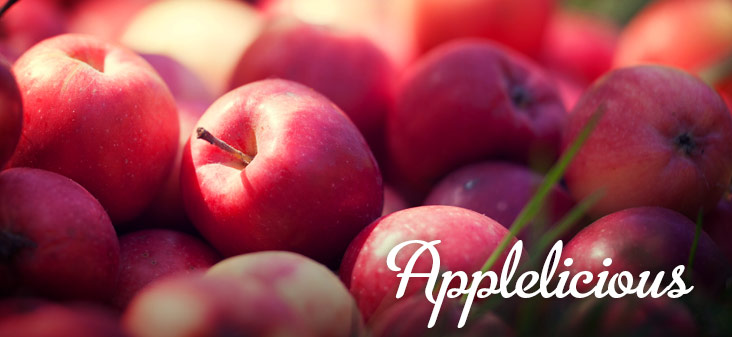 Travel with us down inspiring PEI Heritage Roads to a local orchard where you will hand-pick fresh delicious apples.  Then join our Chef in the kitchen at The Table to create preserves and an apple braised pork dish you won't soon forget!
4.5 hours | $90/person +tax
Artisan Bread
WHAT IS NICER THAN THE SMELL OF FRESH BREAD?
In this class, we will teach you the basics of breadmaking and how to make your own homemade loaves of artisan bread as well as one of The Table's own Citrus Beet Loaf or Black Garlic Potato Bread.  Once you unlock the secret of artisan bread, you will be able to make a batch of dough that will last you through the week and allow you to make fresh bread every night for your family.
You knead to try this one!
3.5 hours | $65/person + tax
ONE OF THE HIDDEN CULINARY TREASURES OF PRINCE EDWARD ISLAND…
is the black garlic produced by Al Picketts of Eureka Garlic?  Black garlic is a type of cured garlic used in high-end cuisine that is versatile, unique and mouth-watering in its flavor. In this class, we will visit Eureka Garlic to learn about Al's passion for garlic and how black garlic is made.  At The Table, you will create both sweet and savory dishes using this black "gold" to create layers of flavor that will awaken your taste buds and spark your imagination.
You will never see garlic the same again!
4.5 hours | $100/person + tax
CALLING ALL SEAFOOD LOVERS!
Have you ever wanted to learn how to sear a scallop, debeard a mussel or crack a lobster with a butter knife?  Then this class is for you.  Located only minutes from New London Bay Harbour, The Table uses the freshest seafood you can find on the Island.  In this experience, we will use locally caught lobster, quahogs, mussels and fish to create a succulent and elegant seafood meal while teaching you about the different fisheries on the Island and the cooking techniques used to bring the bounty of the sea to our tables.
Join us for this seafood feast!
4 hours | $110/person + tax
FARMERS & FISHERMEN ARE THE HEART AND SOUL OF PRINCE EDWARD ISLAND.
In this class, we will head out to a local organic farm to meet Island farmers and discover what treasures are in season beneath the red dirt fields.  You will definitely want to dress "for the farm" as you will be getting your hands (and knees) dirty as you pick the vegetables that will form the foundation of our meal.  We will then head back to The Table where you will create a culinary masterpiece with our chefs using your freshly harvested ingredients.
Taste the freshness!
4.5 hours | $100/person + tax
DITCH THE GLUTEN, NOT THE BREAD!
It is easy to think that a gluten-free diet means the end to pasta, bread, and delicious desserts.  Not so!  In this class, we will create a flavourful, fun and easy three-course meal that includes all of these dishes using hand-blended gluten-free flour. Whether you are celiac, living gluten-free or know someone who is, the recipes you learn will show you how gluten-free is not about what you can't eat but about finding new favorites and reinventing old ones.
Imagine the culinary possibilities!
4 hours | $100/person + tax
A FAMILY FARM AND CULINARY ADVENTURE
On the farm, everyone in the family helps with the chores.  From big to small, young to old, each pair of hands pitches in to get the work done. In this class we join local farmer Nancy Sanderson at Hope River Farm for her morning chore rounds, helping to feed the chickens, sheep, and pigs and collecting the eggs from the hen house.  We will then head to The Table to create a tasty three-course meal using the eggs that you gathered at the farm and freshly picked herbs from the garden.  This is a true family experience for kids and their parents to get some hands-on fun and learning at the farm and in the kitchen.
Lend a helping hand, be a farmer for a day!
4 hours | $100/adult+ tax & $75/child under 12 years of age +tax
Recommended for children over the age of 6 years.
Did you know one of every three bites of food we eat is a result of pollinators like honey bees? That's just how important bees are to the cycle of foods we feed our families.  In this class, we will visit local Beekeeper and Environmentalist, Sharon Labchuk in Stanley Bridge for a tour of her bee hives. She will teach us about the vital role bees play in Island agriculture, what beekeeping is all about and how honey is harvested. We will then take our fresh honey knowledge back to The Table where you will work with our Chef to create unique and tasty dishes and treats that will tantalize your taste buds.
You have to taste it to bee-lieve it!
4.5 hours | $100/person +tax
Beef farming is a proud part of Prince Edward Island's heritage.  The farmers who raise PEI Certified Beef are committed to quality, consistency, and flavor, drawing on generations of experience.  Farmers who use a traditional and responsible approach to raising cattle on small family-owned farms produce outstanding, exceptional quality beef.
In this class, we will be joined by Karl Bruenjes from Atlantic Beef Products who will teach us about how farming methods affect flavor and what cuts and grades of beef are available on the Island.  You will then prepare a succulent and sophisticated three-course meal with our Chef using PEI Certified Beef that you will make again and again for your family and friends.
Join us for this quality beef experience!
4 hours | $100/person + tax
THE SHUCKING TRUTH ABOUT OYSTERS.
Oysters grown and harvested in the waters of Prince Edward Island are among the best you will ever taste.  In this class, we will be joined by local Island aquaculturalist George Dowdle who will teach us all about oyster and quahog farming. You will get to experience a "day in the life" of an aquaculturalist by visiting George's oyster farm and taking part in some of the daily tasks of farming oysters and quahogs.  You will get to taste oysters taken straight from the water and learn how to shuck your very own oysters and quahogs.  We will then use your fresh catch to prepare delicious culinary delights back at The Table.
This is a true sea to table experience you won't want to miss!
4.5 hours | $110/person + tax
WHAT WOULD MARILLA DO?
In this class, we immerse ourselves in the culinary world of Marilla Cuthbert from the Anne of Green Gables novels written by author L. M. Montgomery.  What types of foods would Marilla have made for Anne and Matthew?  Using the Anne novels and L. M. Montgomery's own cookbook as inspiration we will create a delicious meal of traditional PEI recipes worthy of Marilla's table.  During lunch, we will be joined by local Montgomery historian Denise Bruce of Montgomery Inn at Ingleside who will regale us with stories of L. M. Montgomery and tales of life on the Island in the early 1900s.
Anyone for some raspberry cordial?
4 hours | $100/person + tax
DON'T BE SHEEPISH – LEARN ABOUT SHEEP'S MILK CHEESE!
In this class, we will travel to Isle Saint-Jean Farm in North Rustico, where farmers Gabriel and Deirdre will take us on a tour of their family farm and explain all about dairy sheep farming and the cheese making process. You will learn all about the sheep's milk cheeses and yogurt they produce before heading back to The Table to create some beautiful dishes using these wonderful products, other Island cheeses, and fresh seasonal ingredients.
A barn to table experience you won't soon forget!
4.5 hours | $100/person +tax
A VEGAN DIET DOESN'T HAVE TO BE DULL!
In this class, we will use fresh and exciting flavors to tantalize your taste-buds and inspire your culinary creativity for making vegan dishes.  Learn how to make tempeh from scratch, how to use herbs and spices to enhance your dishes, and how to create a decadent vegan dessert.  Make a three-course meal that will impress your family and friends, and tempt even the most stubborn carnivore.
Healthy never tasted so good!
4 hours | $100/person + tax
June, 2018
20
Wed

9:30am – 1:30pm

Marilla's Table
21
Thu

9:30am – 1:30pm

Bounty of the Sea
22
Fri

9:30am – 2pm

Black Garlic
23
Sat

9:30am – 1:30pm

Gluten-Free Gourmet
24
Sun

9:30am – 2pm

Hive to Table
25
Mon

9:30am – 1:30pm

Vivacious Vegan
26
Tue

9:30am – 2pm

Say Cheese!
27
Wed

9am – 1pm

Helping Hands
28
Thu

9:30am – 1:30pm

Marilla's Table
29
Fri

9:30am – 1:30pm

Bounty of the Sea
30
Sat

9:30am – 2pm

Farm to Table
July
1
Sun

9:30am – 1:30pm

Gluten-Free Gourmet
2
Mon

9:30am – 2pm

Hive to Table
3
Tue

9:30am – 2pm

Black Garlic
4
Wed

9:30am – 2pm

Oyster Obsession
5
Thu

9:30am – 1:30pm

Vivacious Vegan
6
Fri

9:30am – 1:30pm

Marilla's Table
7
Sat

9:30am – 1:30pm

Bounty of the Sea
8
Sun

9:30am – 1pm

Artisan Bread
9
Mon

9:30am – 2pm

Farm to Table
10
Tue

9am – 1pm

Helping Hands
11
Wed

9:30am – 2pm

Hive to Table
12
Thu

9:30am – 2pm

Say Cheese!
13
Fri

9:30am – 2pm

Black Garlic
14
Sat

9:30am – 1:30pm

Bounty of the Sea
15
Sun

9:30am – 1:30pm

Marilla's Table
16
Mon

9:30am – 1pm

Artisan Bread
17
Tue

9:30am – 2pm

Farm to Table
18
Wed

9:30am – 1:30pm

Vivacious Vegan
19
Thu

9:30am – 2pm

Oyster Obsession
20
Fri

9:30am – 1:30pm

Gluten-Free Gourmet
21
Sat

9:30am – 2pm

Hive to Table
22
Sun

9:30am – 1pm

Artisan Bread
23
Mon

9:30am – 1:30pm

Bounty of the Sea
24
Tue

9:30am – 1:30pm

Marilla's Table
25
Wed

9:30am – 2pm

Farm to Table
26
Thu

9am – 1pm

Helping Hands
27
Fri

9:30am – 2pm

Hive to Table
28
Sat

9:30am – 1:30pm

Let Them Eat Beef
29
Sun

9:30am – 1:30pm

Marilla's Table
21
Tue

9:30am – 2pm

Hive to Table
22
Wed

9:30am – 1:30pm

Marilla's Table
23
Thu

9:30am – 2pm

Farm to Table
24
Fri

9:30am – 1:30pm

Bounty of the Sea
25
Sat

9:30am – 1:30pm

Vivacious Vegan
26
Sun

9:30am – 2pm

Oyster Obsession
27
Mon

9:30am – 2pm

Say Cheese!
28
Tue

9am – 1pm

Helping Hands
29
Wed

9:30am – 2pm

Black Garlic
30
Thu

9:30am – 1:30pm

Bounty of the Sea
31
Fri

9:30am – 2pm

Farm to Table
September
1
Sat

9:30am – 1:30pm

Marilla's Table
2
Sun

9:30am – 2pm

Hive to Table
3
Mon

9:30am – 1:30pm

Bounty of the Sea
4
Tue

9:30am – 1pm

Artisan Bread
5
Wed

9:30am – 2pm

Oyster Obsession
6
Thu

9:30am – 1:30pm

Gluten-Free Gourmet
7
Fri

9:30am – 1:30pm

Vivacious Vegan
8
Sat

9:30am – 2pm

Farm to Table
9
Sun

9am – 1pm

Helping Hands
10
Mon

9:30am – 2pm

Black Garlic
11
Tue

9:30am – 2pm

Say Cheese!
12
Wed

9:30am – 2pm

Farm to Table
13
Thu

9:30am – 2pm

Hive to Table
14
Fri

9:30am – 1:30pm

Marilla's Table
15
Sat

9:30am – 1:30pm

Gluten-Free Gourmet
17
Mon

9:30am – 2pm

Oyster Obsession
18
Tue

9:30am – 2pm

Farm to Table
19
Wed

9:30am – 1pm

Artisan Bread
20
Thu

9:30am – 1:30pm

Vivacious Vegan
21
Fri

9:30am – 2pm

Say Cheese!
22
Sat

9:30am – 2pm

Hive to Table
23
Sun

9am – 1pm

Helping Hands
24
Mon

9:30am – 2pm

Applelicious
25
Tue

9:30am – 1:30pm

Gluten-Free Gourmet
26
Wed

9:30am – 2pm

Farm to Table
28
Fri

9:30am – 2pm

Applelicious
29
Sat

9:30am – 1pm

Artisan Bread
October
2
Tue

9:30am – 2pm

Applelicious