Boyd & Penny Newman
902-394-1684
pbnewman.pn@gmail.com
Price List:    Daily- $75.00 (include tax )
Weekly-$450.00 (include tax)
$500 damage deposit is required for every rental. The deposit will be returned once the cart is returned undamaged and on time.
If a credit card payment is not collected $500 cash deposit will be required.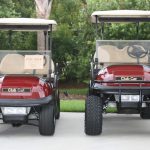 Payment must be received prior to cart use. Payment can be made in person or in advance through e-mail transfer or credit card payment.
Advanced bookings will be accepted. A non- refundable $100 deposit is required to hold rental and will be taken off rental fee. Cancellations must be confirmed 1 week prior to rental date.
WAIVER AND RELEASE OF LIABILITY
I hereby agree to release, indemnify, and discharge Boyd Newman on behalf of myself, my children, my heirs, personal representatives, and estate as follows:
1. I acknowledge that unanticipated risks could result in physical or emotional injury, death, or damage to myself, to property, or to third parties.
2. I expressly agree and promise to accept and assume all risks related to rental of a campground golf cart.
3. I hereby voluntarily release, forever discharge, and agree to indemnify Boyd Newman from any and all claims, demands or causes of action which are in any way connected with my participation in the rental of a campground golf cart including any such claims which allege negligent acts or omissions.
4. I certify that I have adequate insurance to cover any injury or damage I may cause or suffer related to rental of a campground golf cart. I further certify that I have no physical or medical conditions which could interfere with my safety in this activity.
5. I will not operate a campground golf cart while my ability to do so is impaired by drugs or alcohol.
6. I will not allow more than four people on the campground golf cart at any one time.
7. My Drivers Licence No__________________ is and expires__________________
8. Rental Charges
9. I have read and understood this release and agree to be bound by its terms.
Date:___________________ name __________________________
Signature.__________________________________________