CLICK HERE to download the PDF version of the Marco Polo Treasure Chest
Off Season Rates Now Available!
Are you interested in starting your camping season a bit early?  We are pleased to offer you our off-season rate of $20/night from now until May 28th (opening day), as well you can extend your season 'till the snow flies' if you wish.  Please contact the office if this is something you are interested in doing and arrangements will be made for payments.
Click on the Treasure Chest to Sign Up For Our Newsletter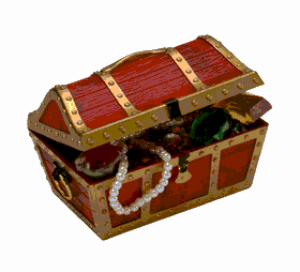 JOB POSTING!!
We are currently looking for qualified Life Guards for our summer season, if you or someone you know are interested in this exciting summer experience, please contact Hennie right away for more information.
---
Special events with our campground families
June 3rd @ 5pm ~ Annual Seasonal Pot Luck.  Everyone Welcome! 
June 9th ~Hunter River United Church Roast Beef Dinner (Sit Down & Take Out).  Contact Joan in the store for more details.
June 22nd & 23rd ~ Relay For Life – more details to come
June 23rd ~ MarcoPolo Yard Sale @ Rec Hall & Campsites from 8am – 12pm (Rain Date June 30th)
We'd love to hear about your special events, send them along to us at newsletter@marcopololand.com for consideration in future editions of the Marco Polo Treasure Chest


---
An Acadian Experience in Cavendish 
Join us every Tuesday evening from 6-8pm for an AUTHENTIC Acadian experience at the Galley Restaurant. Chef JD Runnels will prepare a traditional Acadian meal that showcases the best of our local meats, produce and fruit, adding his personal touches and flavours.
Island renowned Chef, Musician and Storyteller Robert Pendergast will take you back in time when singing songs and sharing stories were the Acadian way to gather and celebrate.  This interactive evening will take you through the journey of the Acadian way of life as well as enjoying traditional music, we'll have you  playing the spoons and tapping your toes!  This unique one of a kind experience is not to be missed this summer.
Reservations are encouraged by calling 902-963-2352 or 1-800-665-2352
Starting June 26th & every following Tuesday from 6-8pm.
Adults ~$29.99      Youth (6-12yrs) ~$14.99        Children under 6yrs (max 2 with 2 paying adults) ~Free
Licensed Bar Service Available
Our Acadian Experience transforms into a cabaret after 9pm as local musicians jam and enjoy refreshments….you never know who might turn up!
---
July Theme Weeks
June 24-July 1 ~ Canada Week
July 2 – 7 ~ Cavendish Beach Music Festival
July 8-14 ~ Farm Week
July 15 – 21 ~ Christmas Week
July 22 – 28 ~ Easter Week
Upcoming Theme Weeks in August & September
Pirate Week
Halloween Week
Disney Week
Family Week
'Women Only Weekend'
Be sure to check back for more details.
Special Events
July 14th – Farm Day & Rabbit Show
Face Painting
Activities
Fresh Produce
Educational Displays
Aug 25th – Corn Boil
Sept 1st – Family Fair
More details to follow in our weekly newsletters.
Seasonal Payment Options
 Full Payments by May 31st                   Full Payment by June 15th
2 Way ~ $1,285.00                                    2 Way ~ $1,310.00
30 AMP ~ $1,490.00                                  30 AMP ~ $1,540.00
50 AMP ~ $1,583.00                                  50 AMP ~ $1,608.00
 Post Dated Cheques ~June 15th *, July 15th & August 15th
2 Way ~ $445.00
30 AMP ~ $521.66
50 AMP ~ $544.33
*1st Cheque should be submitted prior to June 15th unless other arrangements are made with the office.  NSF Cheques will be subject to a $50 administrative fee.
OPENING DAY
May 28th  ~ Welcome to the 2012 Season (1st  night we are open)
Current Office Hours
Dianne is in the home office from 8am – 4pm (963-2352)
Summer Office Hours
May 28th  – June 29th  ~9am – 9pm
June 29th  – Aug 26th  ~ 8am – 11pm
Aug 26th  – Sept 17th  ~9am – 9pm
Ships Store
May 28th  – June 22nd  ~ 11am – 9pm
June 22nd  – 29th  ~ 8am – 9pm
June 29th  – Sept 2nd  ~8am – 11pm
Sept 2nd  – 8th  ~11am – 9pm
Dairy Bar & Take Out
Opens June 15th  – 25th  ~ 4pm – 9:30pm
June 26th  till late August ~ 11am – 10pm
Breakfast Buffets
Opens June 17th  ~ Father's Day (Dad's Eat Free)
Weekly till Sept 9th  ~ 8am – 12 noon
How To Reach Us
Security: 963-2352 x 4
Ships Store: 963-2352 x 3
Office: 963-2352
Dairy Bar: 963-2352 x 1
Toll-Free 1-800-665-2352
Campground Email Address: questions@marcopololand.com
Marco Polo Treasure Chest Email: newsletter@marcopololand.com
Mailing Address: RR#1 Hunter River, PE  C0A 1N0
Physical Address: 7406 Rte. 13, Cavendish PE