CLICK HERE to download the PDF version of the Marco Polo Treasure Chest
Don't Miss Our Marco Polo Yard Sale
June 23rd from 8am – 12 noon
Dig out those unwanted camping supplies, clean out the closets, empty the kids old toy bins….we're sure there is lots of stuff you'd love to get rid of, so why not make a few dollars doing so!
Join us on Saturday, June 23rd (rain date June 30th) from 8am till 12 noon for possibly the biggest yard sale Cavendish has ever seen!
You can join us in the Rec Hall – first come first served for tables – or you can set up your yard sale on your own site.
Here are some home based businesses that you'll also be able to enjoy on Yard Sale day….
Site 228~ Bev Briggs- Carson ~ Scentsy Candles
Site 230 ~ Andrea Carr-McNeill ~ Everyday Style
Site 276 ~ Bernice Batson ~ Avon
Please come out and show your support for the Relay For Life as they present the Coors Light Kick-Off to Summer Party
Click on the Treasure Chest to Sign Up For Our Newsletter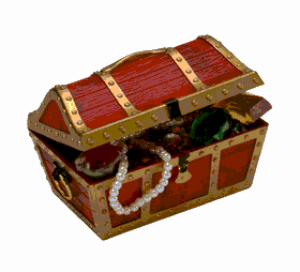 JOB POSTING!!
We are currently looking for Qualified Life Guards for our summer season, if you or someone you know are interested in this exciting summer experience, please contact Hennie right away for more information.
---
Special Events
June 9th ~Hunter River United Church Roast Beef Dinner (Sit Down & Take Out).  Contact Joan in the store for more details.
June 10th ~ Happy 41st Anniversary to Linda & Wendall Stavert (Site 159); Best Wishes from all of us at MarcoPolo!
June 22nd & 23rd ~ Relay For Life presents the Coors Light 'Kick Off To Summer Party' 
June 23rd ~ MarcoPolo Yard Sale @ Rec Hall & Campsites from 8am – 12pm (Rain Date June 30th)
June 26th ~ Every Tuesday night – Acadian Experience in Cavendish (Call 963-2352 for more info)
July 14th ~ 9am – 12 noon – Greenvale Bake Sale to be held outside the Rec Hall (weather permitting)
July 14th ~ Farm Day – Face Painting, Activities, Fresh Produce, Educational Displays and more
Aug 25th ~ Corn Boil
Sept 1st ~ Family Fair
Sept 8th ~ WI Spaghetti Fundraising Supper in the Galley Restaurant, tickets available in the Ships Shore ($10 Adults, $5 kids (10 yrs & younger)
We'd love to hear about your special events, send them along to us at newsletter@marcopololand.com for consideration in future editions of the Marco Polo Treasure Chest 


---
June Events & July Theme Weeks
June 22nd – 24th ~ Arts, Crafts & Games with Rebecca
June 22nd ~ Hay Rides Start @ 5pm
June 24th -July 1st ~ Canada Week
July 2nd – 7th ~ Cavendish Beach Music Festival
July 8th -14th ~ Farm Week
July 15th – 21st ~ Christmas Week
July 22nd – 28th ~ Easter Week
Upcoming Theme Weeks in August & September
Pirate Week
Halloween Week
Disney Week
Family Week
'Women Only Weekend'
Be sure to check back for more details.
Special Events
July 14th – Farm Day 
Face Painting
Activities
Fresh Produce
Educational Displays
Aug 25th – Corn Boil
Sept 1st – Family Fair
More details to follow in our weekly newsletters.
Seasonal Payment Options
All Seasonal Campers Are To Be Registered No Later Than June 15th
(Payment arrangements also made by this date to please if necessary)
 Full Payment by June 15th
2 Way ~ $1,310.00
30 AMP ~ $1,540.00
50 AMP ~ $1,608.00
 Post Dated Cheques ~June 15th *, July 15th & August 15th
2 Way ~ $445.00
30 AMP ~ $521.66
50 AMP ~ $544.33
*1st Cheque should be submitted prior to June 15th unless other arrangements are made with the office.  NSF Cheques will be subject to a $50 administrative fee.
Summer Office Hours
May 28th  – June 29th  ~9am – 9pm
June 29th  – Aug 26th  ~ 8am – 11pm
Aug 26th  – Sept 17th  ~9am – 9pm
Ships Store
May 28th  – June 22nd  ~ 11am – 9pm
June 22nd  – 29th  ~ 8am – 9pm
June 29th  – Sept 2nd  ~8am – 11pm
Sept 2nd  – 8th  ~11am – 9pm
Dairy Bar & Take Out
Opens June 15th  – 25th  ~ 4pm – 9:30pm
June 26th  till late August ~ 11am – 10pm
Breakfast Buffets
Opens June 17th  ~ Father's Day (Dad's Eat Free)
Weekly till Sept 9th  ~ 8am – 12 noon
How To Reach Us
Security: 963-2352 x 4
Ships Store: 963-2352 x 3
Office: 963-2352
Dairy Bar: 963-2352 x 1
Toll-Free 1-800-665-2352
Campground Email Address: questions@marcopololand.com
Marco Polo Treasure Chest Email: newsletter@marcopololand.com
Mailing Address: RR#1 Hunter River, PE  C0A 1N0
Physical Address: 7406 Rte. 13, Cavendish PE
THANKS to everyone that was able to come out for our Pot Luck Supper last Sunday evening, we had a great meal together and it was great to see everyone (we'll do it on Saturday night next year so more of you are able to attend)