CLICK HERE to download the PDF version of the Marco Polo Treasure Chest
Some Updates
Internet ~ as many of you are aware, our Internet service is not performing as it should be. Please know that we are working very hard on this and will keep you updated with our progress.
Entry Road ~ we expect to have the 'PEI Potholes' on the entry road paved in the next couple of weeks…speed bumps in various locations will also be re-installed  soon throughout the campground.
Painting ~ we have been doing a lot of painting lately in the playground areas as well as picnic tables…please be sure to check before using that it is completely dry.
Pool Liner ~was installed this week and will be filled soon for the busy summer season.
Driving Speeds ~ we kindly ask you to slow down while driving through the campground as we want to provide a safe atmosphere for everyone to enjoy and feel safe.
Newsletters ~ if you wish to have your newsletter delivered directly to your site, please contact the office so  you can be added to the bike boys delivery list.
Father's Day ~ please join us Sunday for our first brunch from 8am – 12 noon (Dad's eat free).
Click on the Treasure Chest to Sign Up For Our Newsletter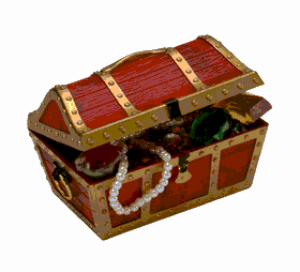 ---
Special Events
June 15th @ 4pm ~ Dairy Bar & Take Out Opens!
June 22nd & 23rd ~ Relay For Life presents the Coors Light 'Kick Off To Summer Party' 
June 23rd ~ MarcoPolo Yard Sale @ Rec Hall & Campsites from 8am – 12pm (Rain Date June 30th)
June 26th ~ Every Tuesday night – Acadian Experience in Cavendish (Call 963-2352 for more info)
July 14th ~ 9am – 12 noon – Greenvale Bake Sale to be held outside the Rec Hall (weather permitting)
July 14th ~ Farm Day – Face Painting, Activities, Fresh Produce, Educational Displays and more
July 21st ~ 8am – 12 noon – Stanley Bridge Bake Sale to be held outside the Rec Hall (weather permitting)
Aug 25th ~ Corn Boil
Sept 1st ~ Family Fair
Sept 8th ~ WI Spaghetti Fundraising Supper in the Galley Restaurant, tickets available in the Ships Shore ($10 Adults, $5 kids (10 yrs & younger)
We'd love to hear about your special events, send them along to us at newsletter@marcopololand.com for consideration in future editions of the Marco Polo Treasure Chest 


---
June, July & August Theme Weeks
June 22nd – 24th ~ Arts, Crafts & Games with Rebecca
June 22nd ~ Hay Rides Start @ 5pm
June 24th -July 1st ~ Canada Week
July 2nd – 7th ~ Cavendish Beach Music Festival
July 8th -14th ~ Farm Week
July 15th – 21st ~ Christmas Week
July 22nd – 28th ~ Easter Week
July 31st – Aug 6th ~ Pirates Week
Aug 7th – 13th ~ Halloween Week
Aug 14th – 20th ~ Disney Week
Aug 21st – 27th ~ Family Week
Be sure to check back for more details.
More details to follow in our weekly newsletters as events get closer.
Seasonal Payment Options
All Seasonal Campers Are To Be Registered No Later Than June 15th
(Payment arrangements also made by this date to please if necessary)
 Full Payment by June 15th
2 Way ~ $1,310.00
30 AMP ~ $1,540.00
50 AMP ~ $1,608.00
 Post Dated Cheques ~June 15th *, July 15th & August 15th
2 Way ~ $445.00
30 AMP ~ $521.66
50 AMP ~ $544.33
*1st Cheque should be submitted prior to June 15th unless other arrangements are made with the office.  NSF Cheques will be subject to a $50 administrative fee.
Summer Office Hours
May 28th  – June 29th  ~9am – 9pm
June 29th  – Aug 26th  ~ 8am – 11pm
Aug 26th  – Sept 17th  ~9am – 9pm
Ships Store
May 28th  – June 22nd  ~ 11am – 9pm
June 22nd  – 29th  ~ 8am – 9pm
June 29th  – Sept 2nd  ~8am – 11pm
Sept 2nd  – 8th  ~11am – 9pm
Dairy Bar & Take Out
Opens June 15th  – 25th  ~ 4pm – 9:30pm
June 26th  till late August ~ 11am – 10pm
Breakfast Buffets
Opens June 17th  ~ Father's Day (Dad's Eat Free)
Weekly till Sept 9th  ~ 8am – 12 noon
How To Reach Us
Security: 963-2352 x 4
Ships Store: 963-2352 x 3
Office: 963-2352
Dairy Bar: 963-2352 x 1
Toll-Free 1-800-665-2352
Campground Email Address: questions@marcopololand.com
Marco Polo Treasure Chest Email: newsletter@marcopololand.com
Mailing Address: RR#1 Hunter River, PE  C0A 1N0
Physical Address: 7406 Rte. 13, Cavendish PE