CLICK HERE to download the PDF version of the Marco Polo Treasure Chest
Cavendish Beach Music Festival
We kindly ask for your support this weekend as we are fully booked.  We'd ask you to keep your eyes open and if you have any concerns please notify security immediately to the issue can be addressed; as we all want to have a fun, safe weekend.
Due to the concerts we are offering a modified take out menu for the weekend and items are as follows.  (Taxes Included)
~ Wings – $1 each                ~ Fries – $3/$5               ~ Onion Rings – $4                ~ Fish & Chips – $10
~ Chili & Chips – $6               ~ Poutine – $8               ~ Fries with the works – $10
Chicken Fingers/ Popcorn Chicken or Chicken Burgers $7 each or $9 each with fries
Brunch ~ 8am – 12 noon Saturday & Sunday in the Galley Restaurant
Karaoke Wednesdays
Come join us in the Galley @ 9pm for what's bound to be a comical evening to say the least. (This is a licensed event (19+ only)
2012 Recreation Program
 Rebecca is in full swing with lots of great crafts and much more; join her Monday – Saturday from 9 am – 1 pm. Check the Rec Hall windows for more details.
Evening activities run from 5pm – 10 pm unless otherwise noted.
~ 5pm – Hayrides
~ 6pm – 8 pm – Outdoor activities, on the field beside the rec hall; hoola hoops, skipping ropes, slip in slide, stilts, games, and relays for everyone.  We will try new games and would like input if you know of some good interactive games.
~ 8-9pm – Soccer or Ball Hockey (excluding Wednesday & Saturday)
~ 9-10pm – Monday – Campfire, Tuesday – Exploring, Thursday – Scavenger Hunt, Friday – Campfire.
Every Wednesday we will host Chocolate Bar Bingo, doors open at 7:30 and one bar gets you two bingo cards.
Every Saturday, 8pm – 10pm will be our main event; karaoke, live band, or DJ, held in front of the rec hall or inside if weather is poor.
We would love to get everyone involved with our Monday & Friday open mic campfires  from 9pm-10pm behind the store at our community fire pit, everyone is welcome and you are encouraged to bring instruments and singing voice if you wish as well.
Click on the Treasure Chest to Sign Up For Our Newsletter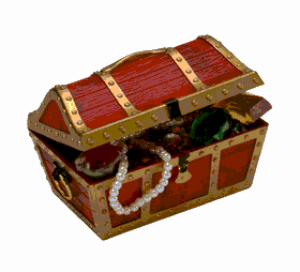 ---
Special Events
July 10th ~ Acadian Experience in Cavendish (Call 963-2352 for more info)
July 11th ~ Adult Karaoke @ 9pm in the Galley Restaurant (19 Years & Older)
July 14th ~ 9am – 12 noon – Greenvale Bake Sale to be held outside the Rec Hall (weather permitting)
July 14th ~ Farm Day – Face Painting, Activities, Fresh Produce, Educational Displays and more
July 21st ~ 8am – 12 noon – Stanley Bridge Bake Sale to be held outside the Rec Hall (weather permitting)
Aug 25th ~ Corn Boil
Sept 1st ~ Family Fair
Sept 8th ~ WI Spaghetti Fundraising Supper in the Galley Restaurant, tickets available in the Ships Shore ($10 Adults, $5 kids (10 yrs & younger)
We'd love to hear about your special events, send them along to us at newsletter@marcopololand.com for consideration in future editions of the Marco Polo Treasure Chest 
July & August Events
Daily ~ Arts, Crafts & Games with Rebecca
Daily ~ Hay Rides Start @ 5pm
July 2nd – 7th ~ Cavendish Beach Music Festival
July 8th -14th ~ Farm Week
July 15th – 21st ~ Christmas Week
July 22nd – 28th ~ Easter Week
July 31st – Aug 6th ~ Pirates Week
Aug 7th – 13th ~ Halloween Week
Aug 14th – 20th ~ Disney Week
Aug 21st – 27th ~ Family Week
Be sure to check back for more details.
More details to follow in our weekly newsletters as events get closer.
Relay For Life Event (Post Event) ~ Coors Light Kick Off To Summer
 After receiving a letter voicing concerns and questions regarding the overall philosophy of Marco Polo Land; I felt it was necessary to address these issues with everyone in regards to this event; as I very much value your business and you can be assured, I DO NOT take it for granted.
We did enter into a business agreement with the organizers of this event as we wanted to do our part to support the ongoing struggles with Cancer; as we have all known or lost someone to this horrible disease. Helping the community we live in, has, and will continue to be a very important to us.
I wholeheartedly agree with the comments that a handful of the participants were totally out of control and ruining it for others.  Based on our agreement, the fundraising committee were to be in charge of their own event (security), however our security had to step in when it was realized the organizers could not handle the crowd.
I met with the committee after the event to discuss the issues and what would be done differently if Marco Polo Land was to be involved in such another event in the future.
I take it very seriously if you, our campers do not think I am running the campground well and that I intentionally put you in danger by bringing in such events.  I can assure you, your safety is my number one priority.  That being said, I have organized a meeting to discuss these or any other safety/security issues you may have on Thursday, July 12 @ 6pm in the Galley Restaurant and invite all seasonals to attend.
Welcome to Marco Polo Land's New Dining Experience
Below are the three menus Chef JD has prepared for you to choose from; 48 hours notice is required based on availability.  Ask about our singing chef experience for larger groups.  Please let us know of any dietary restrictions or allergies.  (Additional fees for 12 or more)
Menu #1 ~$25.00 per person (plus tax & gratuity)
Appetizer – Mixed Greens Salad w/ apple vinaigrette & roasted pumpkin seeds
Entrée: Choice of Braised Island Beef or Salmon Steak and trimmings
Dessert Table: Warm Fruit of the season compote on country style pound cake & vanilla ice cream.
Menu #2 ~$35.00 per person (plus tax & gratuity)
Appetizer – Steamed Mussels, Foccacia Bread & Dips, Organic Mixed Greens w/ apple vinaigrette & roasted pumpkin seeds
Entrée: Choice of Salmon Steak, Braised Beef or BBQ Pork Shoulder w/ trimmings
Dessert Table: Warm Fruit of the season compote on country style pound cake & vanilla ice cream or fruit of the season cheesecake.
Menu #3 ~$65.00 per person (plus tax & gratuity)
Appetizer – Market vegetable tray, chips/dip, assorted Foccacia bread/dips, Oyster Bar, Steamed Mussels (or Clams available at no extra cost) and Organic Mixed Greens w/ apple vinaigrette & roasted pumpkin seeds
Entrée: Choice of Cedar Plank Salmon, Braised Beef or BBQ Pork Shoulder w/ trimmings, Lobster (hot or cold) or Lobster Shepherd's Pie
Dessert Table: Assorted showcasing our famous deserts (Chef's choice)
Office Hours ~ 8am – 11pm 
Ships Store ~ 8am – 11pm 
Dairy Bar & Take Out ~ 11am – 10pm 
Breakfast Buffets ~ Sunday's Only 8am – 12 noon
Hay Rides ~ Daily @ 5pm
How To Reach Us
Security: 963-2352 x 4
Ships Store: 963-2352 x 3
Office: 963-2352 x1
Dairy Bar: 963-2352 x 2
Toll-Free 1-800-665-2352
Campground Email Address: questions@marcopololand.com
Marco Polo Treasure Chest Email: newsletter@marcopololand.com
Mailing Address: RR#1 Hunter River, PE  C0A 1N0
Physical Address: 7406 Rte. 13, Cavendish PE