CLICK HERE to download the PDF version of the Marco Polo Treasure Chest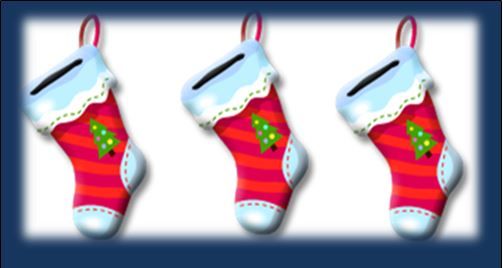 It's Christmas Week at MarcoPolo
We're celebrating Christmas this week at MarcoPolo and invite you to come see Santa on Saturday evening.  Santa will be taking in the Hayrides on Saturday evening afterwards he'll be in the Rec Hall to visit with the children (young & old).
Friendly Reminders
It's that time of the season again for a few reminders as we can all use some refreshers from time to time…
~ PLEASE SLOW DOWN while driving through the campground!
~ No open alcohol is allowed in our campground.  Please ensure it is in a cooler or covered container when travelling from site to site.
~ MarcoPolo Campground will not tolerate Drinking & Driving.  Should anyone be observed operating a vehicle in this manner the RCMP will be called.  Let's all work together to keep our campground as safe as possible for everyone.
~ We understand there are still some challenges in regards to the internet; if you are still experiencing issues at your site please let us know via phone or email as we want to get this issue solved.
 Cross Fire Paintball
20% off ~ including everything you need to play.  Open daily 11-6pm, call 40-5409, info@PlayCrossFirePEI.com or visit www. PlayCrossFire PEI.com
Wax World of Stars
8863 Cavendish Rd. Rte #6
Camper Discount ~ $ 8.99 5:30-8:30 pm until August 18th.  Call 963-3444 for more information
Special Events
July 19th ~ 8:30pm – Newlywed & Not So Newlywed Game – couples can sign up the Security Booth. (Adults Only)
 July 20th ~ 8:30pm – TQ Band (Brad Trivers, Betty Pound, Charles Reid & Susan Matheson) in Galley Restaurant (Adults Only)
July 27th ~ 8pm – TBA Event Galley Restaurant (Adults Only)
July 27th ~ 8-11am – East Wiltshire Breakfast Program Pancake Breakfast Fundraiser – Tickets @ door
 July 27th ~ 8:30-10:30am – Stanley Bridge Memorial Society  Bake Sale at Rec Hall
Aug 3rd ~ 8-11:30am – Greenvale WI  Bake Sale at Rec Hall
 Aug 3rd ~ 8-1pm – Yard Sale (Details on next page)
Aug 17th ~ 6pm – Halloween Event – Rec Hall
Arts & Entertainment
~ Anne & Gilbert
~ Dear Johnny Deere
~ Evangeline
~ Confederation Players Walking Tours
More info available in the main office
Yard Sale ~ August 3rd ~ 8am – 1pm
Feel free to set up on your own site or join us in the Rec Hall; if you wish to participate please email your site number, name and general description of what you will be selling to marcopolopei@gmail.com by Tuesday, July 30th to be included in the next newsletter
Relay for Life
Weekly 50/50 draws are back on the go and the sign-up sheet is in the store; draws take place on Sundays
New Playground Equipment
Two of the three playgrounds are now completed, we left the largest one to the last and expect to have it installed by Monday, July 22nd.  We have put a large financial commitment into these playgrounds for the use of our children and hope that you will treat them as your own.  Please report any misuse of the equipment to security as we are sadden to tell you that one set has already been vandalized.
Kids Menu ~ Galley Restaurant
We are now offering a new kid's menu in the take out, on those hot nights when you don't want to cook come on up to check it out.
We also have a 16" Pizza & Pop (2L) Special for $17.50 plus tax available
Seasonal Committee
We are looking for feedback on the creation of a Seasonal Committee as we would like to have you more involved with the social aspects of the campground; theme weeks, pot lucks, decorating, game nights, barbq's, fundraisers etc.  Please leave your name in the office if you would be interested.
Summer Office Hours                     Ships Store
8am – 10pm                                                 8am – 11pm
Dairy Bar & Take Out                      Breakfast Buffets
11am – 9pm                                                 Sunday's 8am – 12 noon
Evening Family Activities
~ Daily ~5pm – Hayrides
~ Monday – Saturday ~ 6pm – 8 pm – Games
~ Monday ~8pm Soccer & 9pm Campfire behind Rec Hall
~ Tuesday ~8pm Ball Hockey & 9pm Scavenger Hunt
~ Wednesday ~7:30pm Chocolate Bar Bingo
~Thursday ~ 8pm Softball, 9pm Exploring
~ Friday ~ 8pm Theme Week Event
~ Sunday ~ 6pm & 8pm Movies in Rec Hall
Adult Events
Wednesday ~ 8:30-12am ~Karaoke
Thursdays ~8:30-11pm Games in Galley Restaurant
On Site Pampering 
Rossy's Exotic Nails ~ Manicure & Pedicure appointments right at your campsite by callig Rossy @ 902-213-2537
Serenity Salon ~ Treat yourself in the comfort of your tent, trailer or mobile home to a relaxing massage by calling 902-213-1184 or www.massagepei.com
Theme Weeks
July 21st – 27th ~ Easter Week
 July 28th – Aug 3rd ~ Pirates Week
Aug 4th – 10th ~ Farm Week
Aug 11th – 17th ~ Halloween Week
Aug 18th – 24th ~ Disney Week
Aug 25th – 31st  ~ Family Week
How To Reach Us

Security: 963-2352 x 4                                       Ships Store: 963-2352 x 3

Office: 963-2352                                               Dairy Bar: 963-2352 x 1

Toll-Free 1-800-665-2352

Campground Email Address: questions@marcopololand.com

Marco Polo Treasure Chest Email: marcopolopei@gmail.com

Mailing Address: RR#1 Hunter River, PE  C0A 1N0

Physical Address: 7406 Rte. 13, Cavendish PE
Click on the Treasure Chest to Sign Up For Our Newsletter