CLICK HERE to download the PDF version of the Marco Polo Treasure Chest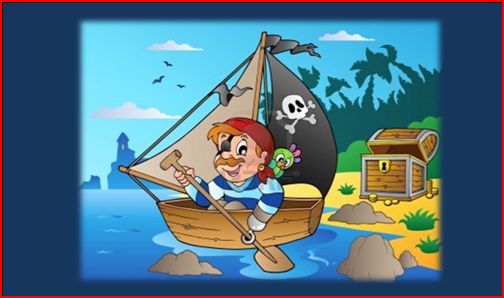 It's Pirates Week At MarcoPolo
We're celebrating our Pirates and invite you to join us Saturday evening from 6-10pm for Pirate themed games & treasure hunt followed by a live band Pirate Party dance in the Rec Hall.
Early Notice for Halloween Week
One of our biggest events is fast approaching the week of August 5th – 11th… Halloween Week.  We'll have a Halloween Fashion Show @ 6pm followed by Trick or Treating till 8pm wrapping up with a dance from 8-10pm in the Rec Hall.
Trick or Treating will be on Saturday evening (August 11th) and for those of you that want to participate you can pick up ribbons at the office to identify your site for the children as they make their way around the campground.  We have had a large number of children participate in this activity and ask everyone to take special care and attention when moving throughout the campground that evening as the children will be excited and perhaps not paying as close as attention as they should be.
Pampering Right at Your Campsite
Did you know that you can get a full Manicure or Pedicure at your campsite now?  That's right, Rossy will come right to you!  She also offers Gel/Acrylic nail applications or if you just need something special for the night she'll paint your fingers/toes in beautiful designs.  Please call Rossy directly at 213-2537 or email estrella-2921@hotmail.com for pricing & appointments.
Click on the Treasure Chest to Sign Up For Our Newsletter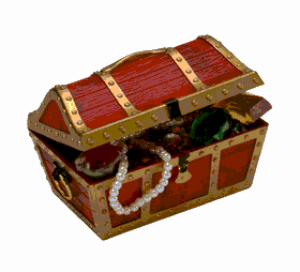 ---
Special Events
Wednesday & Friday ~ KJL Meats will be travelling the campground with their fresh meats, vegetables and more for sale.  Please remember they operate on a cash basis only
Aug 7th ~ Acadian Experience in Cavendish (Call 963-2352 for more info)
Aug 9th  ~ Adult Karaoke @ 9pm in the Galley Restaurant (19 Years & Older)
Aug 25th ~ Corn Boil
Sept 8th ~ WI Spaghetti Fundraising Supper in the Galley Restaurant, tickets available in the Ships Store ~$10 Adults/ $5 Kids (10 yr. & younger)
Birthday Wishes
 Aug 4th ~ Birthday Wishes are extended to Chester MacQuarrie on site #221 as he celebrates on Saturday
 Aug 8th ~ Birthday Wishes are extended to Noah Griffin on site #102 as he celebrates his 10th Birthday on Wednesday.
 Anniversary Wishes
Aug 5th ~ Congratulations to Chester & Shirley MacQuarrie on site #221 as they celebrate their 40th Anniversary on Sunday
Aug 1st ~ Belated 25th Anniversary Wishes to Dianne (office mgr) & Kent Wyand this past Wednesday
We'd love to hear about your special events, send them along to us at newsletter@marcopololand.com for consideration in future editions of the Marco Polo Treasure Chest 
July & August Events
Daily ~ Arts, Crafts & Games with Rebecca
Daily ~ Hay Rides Start @ 5pm
July 31st – Aug 6th ~ Pirates Week
Aug 7th – 13th ~ Halloween Week
Aug 14th – 20th ~ Disney Week
Aug 21st – 27th ~ Family Week
Be sure to check back for more details.
More details to follow in our weekly newsletters as events get closer.
Final Post Dated Cheques ~ August 15th
2 Way ~ $445.00
30 AMP ~ $521.66
50 AMP ~ $544.33
August 3rd – 10th Special Recreation Events
Rebecca is offering lots of great crafts, activities and much more; join her Monday – Saturday from 9 am – 1 pm.  Check the Rec Hall windows for more details to join in on the fun!
Friday @ 8pm ~ Games on Bouncing Pillow
Saturday @ 8pm ~ Treasure Hunt & Pirate Party in Rec Hall
Sunday @ 6pm & 8pm ~ Movies in Rec Hall
Monday @ 8pm ~ Soccer
Tuesday @ 8pm ~ Ball Hockey & @ 9pm ~ Scavenger Hunt
Wednesday @ 7:30pm ~ Chocolate Bar Bingo
Thursday @ 8pm ~ Softball & @ 9pm ~ Exploring
Red Cross Free Boating Safety Presentation in the Pool
Saturday, August 4th – 11-12 noon.  Come learn about water safety, importance of wearing a PFD, canoe rescue and more
Anne of Green Gables Play @ Confederation Centre
For the month of August the Confederation Centre of the Arts are offering 30% off their rates, available at time of purchase.
Boat Tours
(Can be booked at the Campground office ~ SAVE $10 off any Adult Tour Admission ~Coupon Code: save 10)
Seas Summer Music Series Tour ~ 7pm (2hrs) from Stanley Bridge and includes mussels.  Pricing is $49 adults – $24 child or $122 for a family.
Ship Wrecks & Seascapes ~ 2pm with a lobster hauling demo also included.  Pricing is $28 adults – $14 child or $70 for a family (Mon, Tues, Thurs & Sun only)
Lobster Dinner Cruise ~ 4:15pm (2hrs) $68 adults – $46 child (Wed, Fri & Sat only)
Fresh Organic Grown Vegetables
Olde MacKenzie Farms will be coming to the campground each Saturday morning with a limited number of veggie boxes priced at both $10 & $20.  Orders must be received by Friday at noon prior and choices this week include mixed greens, kale, new potatoes, carrots, snap peas, beans, green oninos, broccoli, beets, zucchini and napa/Chinese cabbage.  For more information please contact 316-0228 or info@oldemackenziefarm.ca
Relay For Life
The Relay For Life team will be starting a weekly 50/50 draw to be held each Sunday night with a cost of $2/week; registerations/payments will be taken at the office.  First draw will be held on August 5th and the last will be September 9th.  Questions can be directed to Kelly Doiron @ 626-7540.
Office Hours ~ 8am – 11pm 
Ships Store ~ 8am – 11pm 
Dairy Bar & Take Out ~ 11am – 10pm 
Breakfast Buffets ~ Sunday's Only 8am – 12 noon
Hay Rides ~ Daily @ 5pm
How To Reach Us
Security: 963-2352 x 4
Ships Store: 963-2352 x 3
Office: 963-2352 x1
Dairy Bar: 963-2352 x 2
Toll-Free 1-800-665-2352
Campground Email Address: questions@marcopololand.com
Marco Polo Treasure Chest Email: newsletter@marcopololand.com
Mailing Address: RR#1 Hunter River, PE  C0A 1N0
Physical Address: 7406 Rte. 13, Cavendish PE